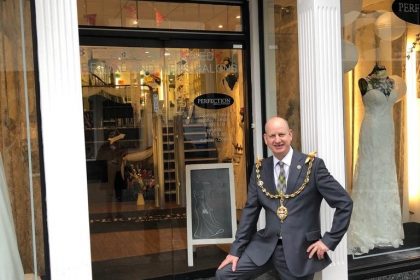 On Saturday the 12th January we had the pleasure of welcoming the mayor of Maidstone, Cllr David Naghi to Perfection bridal.
David brought alongside him some representatives from The Borough Insight as they were coming to see some of the recent works on Gabriels Hill.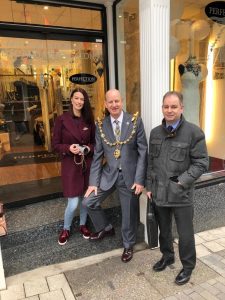 David firstly had a peruse of the downstairs of our impressive three floors of showroooms, where he looked through the stunning look books for the coming year with Elaine our lovely manager and head of alterations.
After this Kathryn, one of our boutique's lovely owners.. and the lady that makes things happen, introduced David to the whole team which includes, Tracy our longest standing member, Stacie, Emma our Saturday girl and Liz.  We are very proud of our friendly and approachable team here at Perfection and David certainly joined in on the jokes.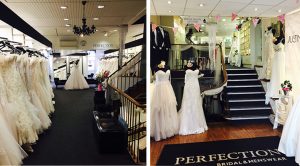 We brought David up to the 'wow factor' floor and he certainly seemed impressed by our vast collection.
Pictured here with Liz and Kathryn. David admired the stunning Eugenie gown by Sincerity Bridal.  This soft Mikado gown wins the hearts of those looking for a clean and flattering look on their wedding day.
A huge thank you to David and his team for taking the time to shine a spotlight on Perfection Bridal.  It was a  slight change in the schedule for us on a usual Saturday …but nonetheless a real pleasure and lovely opportunity to present the boutique we are all so proud to call ours.